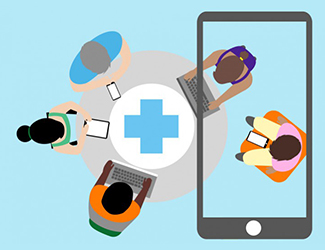 Communication in hospitals and healthcare organisations is undergoing a transformation.
Gone are the days of telephone calls, pagers, whiteboards and faxes that used to plague healthcare communications. Patients and care providers expect fast, reliable and secure messaging for:
Appointment management
Treatment alerts and reminders
Automating staff processes
As the race towards digital transformation accelerates and operational costs spiral, the barriers to modernise communications in the healthcare sector must be removed today.
The need for better healthcare messaging
Health organisations need to be agile
Ensure your message reaches the right person quickly during an emergency with Day to day care processes may become beset with inefficiencies. Communication breakdowns and unproductive collaboration are the principal cause of medical errors and heavily impact the time that could be spent caring for patients.
Patients expect more
Not only do ineffective communications impact patient satisfaction, but they also have a direct impact on the quality of their care. Patients need healthcare providers to streamline communications to improve two-way engagement.
Coordinate staff communications
Every year care delivery becomes ever more complex. Overworked staff increase the likelihood of medical errors and lack of health team collaboration has a significant impact on care delivery. Healthcare organisations need a better way to get the right information to the right people. Fast.
Improved productivity saves the average hospital millions every year
Faster Patient Admission
Admitting a patient could be 65% quicker
Quicker Emergency Response
Coordinating an emergency response team could be 43% faster
Efficient Patient Transfers
Transferring a patient to another facility or home care/hospice could be 63% faster
Mission-critical communications
Eliminate productivity leak points and ensure your message reaches the right person quickly with mobile notifications and alerts. Orange Enterprise Messaging is a reliable and cloud-native communications platform that easily integrates with existing healthcare systems to reduce operational costs.
Improve productity by automating healthcare operations
Enable rapid incident response with mobile alerts
Integrate mobile messaging with your existing healthcare IT systems
Discover how two-way mobile messaging helped home nurses provide producitive and better care for one healthcare provider.
Communication for the entire patient journey
Connect with patients in the moments that matter
Talk to an expert
Ensure your communications are care-centric
Patients prefer messaging
70% of patients will not answer a phone call from an unfamiliar number
Use the right channels to interact
70% of patients expect to receive messages and alerts on their preferred channels
Patients want responsive care
The majority of patients expect responsive 2-way interactions outside of their appointment
A better way to communicate with patients
Put patients on the best path with personalised mobile communications, including automated appointment remnders and aftercare recovery notifications. Orange Enterprise Messagng helps you to increase show rates, improve waiting list times easily and keep patients informed in real-time.
Reduce missed appointments by up to 25% with SMS
Gather instant patient feedback through digital channels to ensure the best patient care
Increase engagement, 98% of text messages are read within 3 minutes
Increase patient engagement
Learn how a healthcare provider was able to improve engagement scores by switching from email and telephone calls to SMS.
Orchestrate better healthcare team collaboration
Breakdown silos with holistic communications
Talk to an expert
Promote collaborative care
Reduce medical errors
Medical errors are caused by systematic problems. Eliminate these with coordinated care and collaborative communications amongst the healthcare team.
Lower fatigue
Exhaustion can have an impact on patient care and employee turnover. Secure communications can reduce fatigue by enabling information to be accessed quickly.
Patient handoff gaps
Getting information to care providers quickly can be challenging. Doctors, nurses and care providers need a secure and reliable way to access and send critical information quickly.
Communication is essential to enhancing healthcare delivery
Efficient communication and effective collaboration are essential to breaking down healthcare silos. Orange Enterprise Messaging can be used by all facilities and departments to empower them with compliant and instant communications.
Enable safer patient handoffs
Promote exchange of knowledge and prevent burnout
Ensure healthcare communications are secure and compliant
Increase team collaboration
Discover how communication helped this team to collaborate more effectively and improve outcomes.
Integrated clinical communications platform
Transform patient interactions, streamline workflows and curb costs
Talk to an expert
Reimaging healthcare communication workflows

To achieve the triple aim of streamlining common workflow processes, improving the patient experience and enabling medical teams to collaborate securely and instantly, healthcare providers should look for a comprehensive, integrated mobile communications platform.
Talk to an expert
High Value Priority Messaging
Value
Productivity
Engagement
Cost
SMS Messaging
Integration APIs
Cloud Admin
Why Orange Enterprise Messaging?
Healthcare providers deserve a clinical communications platform that they can rely on, is easy to deploy and integrate with existing systems and is built on a scalable solution that can be tailored to hospitals and healthcare organisations.
Secure & Reliable
Orange Enterprise Messaging is a poweful and trusted communication platform that can be relied on for mission-critical alerts, with ISO-27001:2013 security certification and operational stability with 99.99% uptime and high message volume throughput.
Scalable
Deploy integrated communications quickly that is highly configurable to your requirements. Consolidate functionality and reduce costs by easily integrating the healthcare message with a range of APIs. Set controls with our hierarchical platform design.
Capable
We have been working closely with leading hospitals, doctor's surgeries and other healthcare providers across the country, helping them to achieve more efficient workflows, reduce costs and streamline communications.